Therapeutic Riding
Therapeutic riding is the use of horses and horse related activities to achieve goals that enhance physical, emotional, social, cognitive, behavioral and educational skills in people with disabilities or special needs. Therapeutic riding focuses on riding skills and the special bond formed between the horse and the rider. This program builds strength, confidence, social skills and a sense of independence for the rider. Additionally, we strive to achieve goals that are specific to each rider. Our lessons are private, so each rider will receive the one-one-one attention they need to achieve their specific goals.
Horse care is equally as important as horseback riding when it comes to our therapeutic riding program. One of the most rewarding aspects of this program is the special bond that the rider forms with the horse as he or she takes care of the therapy animal. We expect each of our riders to feed, bathe and groom his or her own horse. This gives the rider a sense of responsibility, purpose and independence — knowing that his or her horse is relying on them.
We have a trained team of friendly and knowledgeable staff and volunteers that are there for the rider every step of the way. Our therapeutic riding program is great for those with depression, anxiety, Down Syndrome, Autism Spectrum Disorder, and many other disabilities/special needs.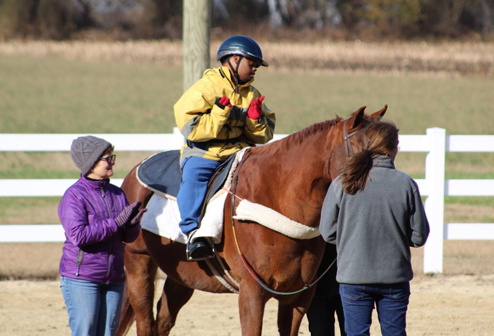 ARE YOU LOOKING TO DONATE?
Help Our Cause.
Your support and contributions enable us to meet our goals and fuel our mission of enriching lives through the special bond formed with our horses. Your generous donations are used to create scholarships and financial assistance for qualifying families.