Equine-Assisted Activities (EAA)
Horseback riding is just one small aspect of our efforts here at Palatka Pastures. Equine-assisted activities (EAA) encompasses all the important aspects of horse care other than just riding — grooming, bathing, feeding, doctoring, stable management, parades, demonstrations, drills, and mounted or ground activities. The strong, unique bond that develops between a horse and its human during all of these essential activities opens up new doors for every individual in our program.
Individuals in our EAA program can expect to start building their relationship with the horse slowly but surely. Horses rely on their five senses to get to know people, so those in our program may start the bonding process by simply standing next to, gently touching, or brushing the horse. Next comes saddling and possibly leading the horse. Individuals in this program may never actually ride a horse, but the variety of benefits caused by the unique bond formed between the horse and its human will be evident from the start. We suggest attending one session per week to experience the benefits of EAA. EAA is especially helpful for those struggling with anxiety, as it helps the person be present and focus on the task at hand.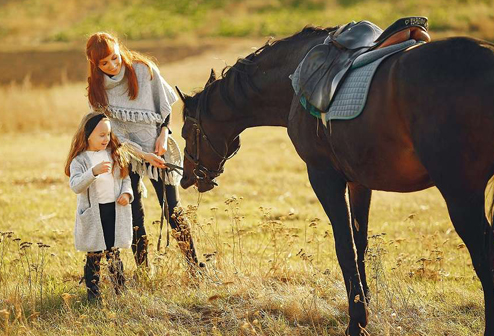 ARE YOU LOOKING TO DONATE?
Help Our Cause.
Your support and contributions enable us to meet our goals and fuel our mission of enriching lives through the special bond formed with our horses. Your generous donations are used to create scholarships and financial assistance for qualifying families.